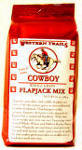 Cowboy Flapjack Mix
Whole wheat, whole barley, cinnamon, buttermilk honey. Yummy.
22 oz. - $6.00
Dude Waffle & Flapjack Mix
Ginger flavor, buttermilk, honey, all purpose & barley flour and barley flakes.
22 oz. - $6.00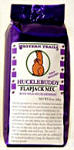 Hucklebuddy Flapjack with huckleberry syrup
Purple barley flour makes lavender cakes.
26 oz. - $9.00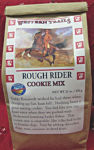 Rough Rider Cookie Mix
Rolled barley cookies or bars, naturally good & healthy. You add butter and eggs and optional chips, dried fruit.
23 oz. - $6.00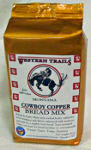 Cowboy Copper Bread Mix
Whole wheat, barley flour, barley grits—hearty bread. Add water, yeast included.

20 oz. - $3.50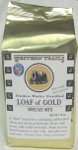 Loaf of Gold Bread Mix
All purpose and barley flour, whey & honey in tasty yeast bread mix for bread machine or oven. Add water, yeast included.
20 oz. - $3.50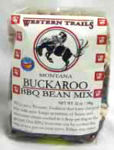 Buckaroo BBQ Bean Mix
Perfect with Rustler Bean sauce. Six beans layered. Recipe included.
12 oz. - $4.00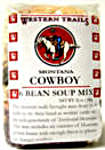 Cowboy 6-Bean Soup Mix
Red kidney, pink, great northern, black, navy, pinto beans with spices and recipe.

12 oz. - $4.50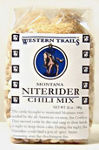 Niterider Chili Mix
Montana pinto and great northern beans with spices & recipe. A favorite.
12 oz. - $4.50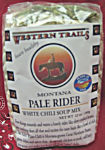 Pale Rider Chili Mix
Great Northern beans, spices, chicken broth & chiles. You add the chicken, sour cream and cheese. Serves 6.
12 oz. - $4.50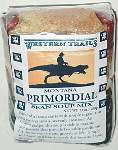 Primordial Bean Soup Mix
Primordial soup starts with simple ingredients and evolves into a heavenly creation!
12 oz. - $4.50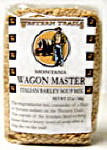 Wagonmaster Italian Barley Soup Mix
Nutritious barley with spices and recipe. Great reheated. Serves 8.
12 oz. - $4.50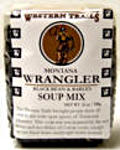 Wrangler Black Bean & Black Barley Soup Mix
Montana's version of red beans and rice. Spices included. Great with ham or sausage.
12 oz. - $4.50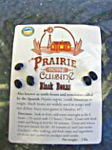 Black Beans
Also known as Turtle beans. Widely used in soup or rice dishes. Try with our purple barley!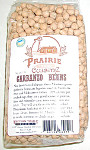 Garbanzo Beans
Also known as chickpeas. Make your own fresh hummus! Grown locally.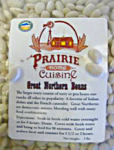 Great Northern Beans
Popular ivory bean blends with many foods. A favorite in Italian & French dishes. Grown locally.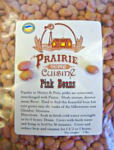 Pink Beans
These hard to find pinks are now grown along the banks of the Yellowstone River. Mealy texture, meaty flavor popular in Mexico & Peru.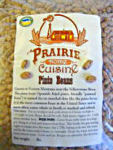 Pinto Beans
America's most popular bean also called frijoles. Great in broth and refried. Grown in Eastern Montana.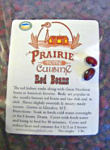 Red Kidney Beans
Popular in chili and southern red beans & rice. Better texture than canned.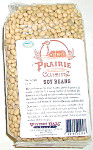 Soy Beans
An East Asian bean, grown here in Eastern Montana. Super high in protein. Good in soups or make your own tofu.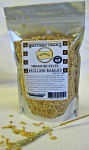 Treasure State Amber Hulless Barley
Great for soups. Keeps its plump texture even with re-heating. Grows 250% on cooking. Also available in bulk.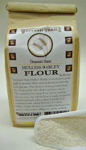 Hulless Barley Flour
Whole grain hulless barley stone-ground here. Low gluten. For yeast bread use 1 to 3 with wheat flour. Great flavor and adds fiber.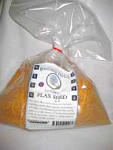 Organic Golden Flax
Omega-3 rich. Whole grain certified organic golden flax from Dawson County, Montana.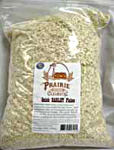 Quick Barley Flakes
Like oatmeal but twice the cholesterol lowering beta glucans.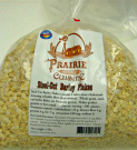 Steel Cut Barley Flakes
Thicker, slower cooking. Great for granola.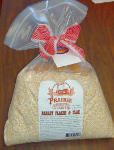 Barley Flakes & Flax
A 5/1 blend of Montana-Grown barley flakes & organic golden flax.
6 lb. - $12.50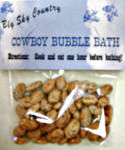 Cowboy Bubble Bath
Novelty, great stocking stuffer. Packaged beans. Directions: Cook and eat one hour before bathing.